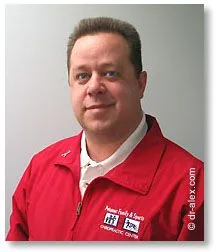 Dr. Alex McMinn is an active member of his community with his wife Kathleen and his three children, Sean, Jillian and Daniel. Dr. McMinn is very active with youth sports. He enjoys coaching Soccer and Lacrosse in Loudon County, Virginia. There he teaches children about wellness, and how to work with others, while having fun.
Dr. McMinn received his Doctorate Degree of Chiropractic from Life Chiropractic College in Atlanta, GA. He also holds a Bachelor of Science degree in Sports Medicine. He is licensed by the National Board of Chiropractic Examiners and the Virginia Board of Medicine. He has been a Certified Personal Trainer since 1985.
Dr. McMinn served as the Official Team Chiropractor for the Washington Redskins for two seasons (2001-2003). He currently treats players all over the National Football League (NFL), including current Redskin Players. Dr. McMinn also enjoys our many other sports related patients, from Champion Weight Lifters to Junior National Figure Skaters, Volley Ball Champs and Senior Golf Tournament players. Along with our sports figures Dr. McMinn specializes in Family Practice, Sports Medicine and Pediatric Chiropractic Care. He is a past member of the American Chiropractic Association Sports Council, Professional Football Chiropractic Association, International Chiropractic Pediatric Association, and International Council on Chiropractic Pediatrics.
Potomac Family & Sports Chiropractic Center, Inc. recognizes that the more you understand the cause of your problem, the faster and more efficiently you can correct your problem. This knowledge can help you take responsibility for your health and prevent problems in the future. Knowledge of Chiropractic, exercise and nutrition are readily available to you, so you can make an educated and informed choice on how to treat and prevent health problems.
Dr. McMinn is available to speak to groups, families and individuals regarding health and wellness. Please call our educated staff with your questions.